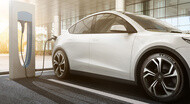 Electric or hybrid car
MICHELIN tyres for electric and hybrid cars are designed to decrease battery drain, travel longer distances, reduce perceived noise and drive in safety. Fitting your EV with electric car tyres ensures you get optimal performance from your vehicle in terms of range, silence and driving experience.
  Two MICHELIN summer tyre lines are specifically designed for EV: MICHELIN Pilot Sport EV and MICHELIN e.PRIMACY. Our tyre ranges, are designed to offer a high level of longevity and performance that lasts remains compliant with your electric or hybrid car.