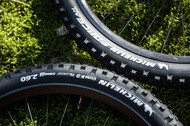 TUBELESS READY & TUBETYPE FITMENT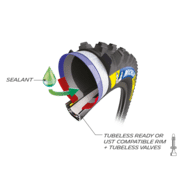 MICHELIN Tubeless Ready tyres can be fitted with or without an inner tube if a Tubeless UST or Tubeless Ready* compatible wheel is used. The maximum recommended pressure must not be exceed. Sealant must be added**. Tyre pressure must be checked before every ride.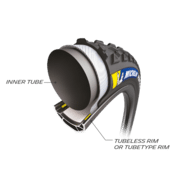 MICHELIN tubetype tyres fit onto hooked metal or carbon rims with an inner tube.
A TYRE CONSISTS OF A CASING, RUBBER, BEADS AND TREAD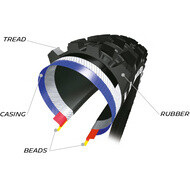 Rubber is one of the key components of a tyre. It provides different performance characteristics according to its composition.

MICHELIN GUM-X technology delivers strong rolling efficiency while delivering a good level of grip. It is available as Single-Compound (MICHELIN Gum-X), Dual-Compound (MICHELIN Gum-X2D) and Tri-Compound (MICHELIN Gum-X3D). Each of these MICHELIN Gum-X versions delivers the tyre performance required.

The MICHELIN rubber technology that provides grip for extreme usages such as Enduro and Downhill. This compound was developed from technology used in MotoGPTM.

MICHELIN Magi-X2 (available on MICHELIN Wild Enduro Front only) is the new generation of MICHELIN Magi-X (available on MICHELIN Mud Enduro).

MICHELIN Magi-XDH provides maximum grip whatever the temperature or terrain conditions. Created as a result of the development for our DH Racing tyres. It is also available on our Enduro Racing tyres.

The Tyre casing is made up of threads, the thickness of which varies according to the range to make the tyre robust, flexible, efficient and lightweight. The more threads there are, the thinner they are, making the tyre lighter. On the contrary, the less threads there are, the bigger they are, making the tyre stronger. TPI (Threads Per Inch) refers to the density of threads per inch.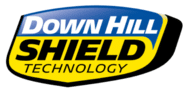 Discipline: Downhill
4x55 TPI casing with high speed stability, even at low pressure
Ranges: MICHELIN Racing Line DH tyres, MICHELIN Wild enduro Racing Line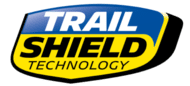 Discipline: All Mountain/Trail
4x60 TPI casing, with a reinforced ply bead to bead to provide maximum robustness
Ranges: MICHELIN Force AM Performance Line​​​​​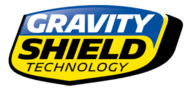 Discipline: Enduro and All Mountain
3x33 TPI or 3x60 TPI casing, particularly suitable for the Enduro discipline.
Ranges: MICHELIN Enduro Competition Line and MICHELIN  All Mountain Competition Line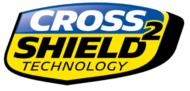 Discipline: XC
MICHELIN Cross Shield2 casing features 4x150 TPI and high density fibre for bead to bead protection.
Range: MICHELIN Jet XC2, MICHELIN Force XC2 and MICHELIN WILD XC, all available in Racing Line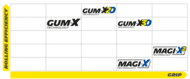 On mixed and muddy terrain, Enduro or DH riders often need to cut their blocks to improve grip and steering precision. Michelin designed and patented a new generation of tread pattern which makes the cuttable blocks consistent and fast (MICHELIN DH Mud and MICHELIN Mud Enduro tread patterns).
PINCH PROTECTION
Extra reinforcement above the bead to absorb energy on pinch impacts.

Reinforcement of the structure which allows the tyre to roll at low pressure with a high level of lateral stability. Increases the resistance of the bead zone on pinch impacts.

Anti-puncture reinforcement that gives optimal protection against perforations in the tread.

Michelin guarantees the tyre is suitable for use with electric bikes. The grip and longevity of the tyres have been tested.
MICHELIN tyres with the e-bike ready label can be used on electric bikes (20 mph) (25km/h).

With the exception of the MICHELIN Wild Run'R, all foldable bead MICHELIN MTB tyres can be mounted Tubeless if you:
use a tubeless UST or tubeless ready compatible wheel
do not exceed the maximum pressure indicated on tyre sidewalls
add sealant
check tyre pressure before each ride
* Check Tubeless ready compatibility with the rim manufacturers' guidelines.
** Check sealant manufacturer recommendations.