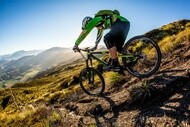 MICHELIN BICYCLE LIMITED WARRANTY
 
DEFINITIONS
The "legal life of the tyre/s" is two (2) years from the date of purchase. The date of purchase is documented by a tyre sales invoice. If no proof of purchase is available, the date of manufacture, as printed inside the tyres, will be used.

WHAT IS COVERED AND FOR HOW LONG
Bicycle tyres used in normal service on the vehicle that are within below conditions. Replacement will be made in accordance with the terms and conditions described under "How Replacement Charges are Calculated."
| | | |
| --- | --- | --- |
| Allegations | Claim accepted | Maximum date after purchase |
| | | |
| Tear | YES | 2 years |
| Deformation | YES | 2 years |
| Quick pressure loss | YES | 2 years |
| Grip | YES | 3 months |
| Irregular wear | YES | 2 years |
| Fitting difficulties (mounting; dismounting; air tightness…) | YES | 2 years |
| Visual aspect : cracks, color… | YES | 2 years |
| Accessories damages except puncture: Tube, sealant... | YES | 2 years |
| Puncture, cut | NO | NO |
| Rapid wear | NO | NO |
WHAT IS NOT COVERED
Tyres that become unserviceable due to:
Road hazard injury. Curbing or spinning including, but not limited to, puncture, cut, impact break, bruise, bulge, snag, stone drill.
Incorrect mounting or dismounting of the tyres /wheel imbalance or repair.
Improper use or operation, including, but not limited to, improper inflation pressure, overload, use of an improper rim, vehicle misalignment, improper brake adjustment, worn suspension components, misuse, misapplication, negligence, accident or vandalism, chemical contamination, fire or other externally generated heat, water or other material entrapped inside the tyre during mounting, tyre alteration.
Flat spotting caused by improper storage or brake lock.
Tyres with more than two years after the date of purchase.
Continued use while run flat or severely under inflated.
Tyres used on vehicle fitted with a trailer.
Conditions caused by improper storage; Also, claims for the following are not covered.
Costs of mounting, balancing, wheel removal and installation (unless otherwise specified) following prorated replacement or repairs of tyres or tubes, and applicable federal, state and local taxes, postage / freight costs.
Claims for irregular wear.
Tyres that have been retreaded, re-grooved or modified in any fashion.
No tyre will be considered for warranty adjustment for any reason after 2 years from the date of purchase.
HOW REPLACEMENT CHARGES ARE CALCULATED

A replacement tyre will be given if all warranty conditions are met.
WHAT THE CONSUMER MUST DO WHEN MAKING A CLAIM
When making a claim under the terms of this limited warranty, you must present your tyres(s) and the proof of purchase to an authorized participating Michelin Bicycle retailer. Refer to website (insert country website here)
STORAGE GUIDANCE

All our bicycle tyres  must be stored, if possible, in a cool, dry place away from direct light.
The performance of a tyre will diminish over time. Foldable bead tyres should be stored folded in the same way they were folded in their original packaging.
Never fold tyres with ridged, wire beads.
If storing Tubeless ready tyres over a long period of time, we advise the complete removal of any sealant to avoid any coagulation inside the tyre. When you store your bicycle, the tyres will naturally lose pressure. Make sure that the tyres are not flat. If possible, hang the bicycle to limit the tyre deformation.
HOW LONG CAN YOU KEEP TYRES?
You should not make a direct correlation between the age of a tyre and its actual aging.
The aging of a tyre depends solely on the conditions under which it has been stored and how it has been used.
For example, a new tyre that has been parked or stored next to a transformer may show irreversible sidewall. Damage (cracking) within a few days, which will affect its performance and ability to retain its pressure.
READING THE DOT
DOT XXXX XXXX XXXX (for tyre from 2000 onwards)
The "DOT" symbol certifies tyre manufacturer's compliance with U.S. Department of Transportation tyre safety standards. Next to the symbol is the tyre identification or "serial number." The first two characters identify the plant where the tyre was manufactured. The next two characters reflect the tyre size. The following one to four digits may be used at the tyre manufacturer's option as a descriptive code. The last four characters are numbers identifying the week and year of manufacture (Example: "0201" signifies the second week of 2001).
If unable to read the DOT, consult a qualified tyre technician or the retailers to determine the year of manufacture.
CONDITIONS AND EXCLUSIONS
This limited warranty does not provide compensation for loss of time, loss of use of vehicle, inconvenience or consequential damage. Some countries do not allow the exclusion or limitation of incidental or consequential damages, so the above limitation or exclusion may not apply to you. Please contact Michelin entities in your country for precise exclusion and its enforceability. Tyres presented for claim remain the property of the consumer and Michelin accepts no responsibility for loss of or damage to tyres that are in the custody or control of a MICHELIN® tyre retailer for the purpose of inspection for warranty adjustment.
In the event of a disputed claim, the consumer must make the tyre available for further inspection.
No Michelin representative, employee or retailer has the authority to make or imply any representation, promise or agreement, which in any way varies the terms of this warranty.
CONSUMER RIGHTS
This warranty will not undermine any of the user's rights or privileges that are accorded under the country law or regulations concerning the rights of consumers.