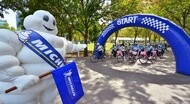 Michelin (Thailand) was established in 1987 and consists of three tyre factories and one steel cord factory that operates under Michelin Siam Company Limited and Michelin Research Asia (Thailand) Co., Ltd. There are 6,700 employees altogether.
Michelin is consistent in the importance it places on the promotion of travel, technology centres and its factories all over the globe. It emphasizes the production of balanced tyres using three main qualities: safety, fuel-efficiency and long-lasting tyres for all car types. Each attribute of the tyre will be thoroughly checked to ensure capability. This is what Michelin strives to achieve.
 
Distribution Networks and Sales Service Centre  
Michelin offers internationally recognized products and service along with comprehensive and professional service throughout Thailand to satisfy the needs of its customers. This is what Michelin desires.
At the beginning of 2009, TYREPLUS service centres for passenger cars and pick-up trucks were opened all over the country.
The aim of Michelin is to produce "consistent travel" for the people of the world. 
As such, Michelin (Thailand) intends to and emphasizes the development of technology. It is also determined to create environmental awareness and energy preservation for a better environment and to reduce traffic accidents.
It also strives to create a safe environment for the community and its employees.
Michelin (Thailand) has performed the following for consistent travel:
Michelin Structure Photo Competition: 1992
This was presented to a Thai youth for his/her creative ability, with the objective of environmental awareness and energy preservation.
Artistic imagination and ideas
Michelin tyres reused to create a playground: 2001 A.D.
The aim was to create an awareness of natural resources by bringing and using left over materials for beneficial purposes (Reuse campaign) in 2001.
Michelin began using tyres for playgrounds for children such as for seesaws, standing seesaws, swings, chain bridges and tyre tunnels. 
The purpose was for Thai youth to gain knowledge and gain a sense of using left over resources for benefits, such as reducing natural resource use for a better, long-lasting environment.
During these 11 years, Michelin has provided tyres for playgrounds in more than 350 schools, communities and public parks. 
 
Amazing Classroom Project: Global Warming Learning Centre (2008 A.D.)
Michelin worked with the Children's Discovery Museum Bangkok to open a place where Thai youth could learn about the environment with the Amazing Classroom Project: Global Warming Learning Centre" in the Bicycle Building of the Children's Discovery Museum Bangkok. This was to foster an awareness of the environment and how important it is and to inspire ideas for the reduction of energy use. This is especially important for tackling the greenhouse effect, which continues to be a crisis even now. It was for growing youth to place an importance in protecting the environment. 
Exhibitions in the classroom for traveling to protect the environment consisted of: 
(1) Plan before your trip to save gas, reduce your carbon footprint. 
(2) Learn how to save gas while driving and help the environment. 
(3) Constantly check and correctly check tyres. 
(4) Do not overload your car with luggage; it causes gas waste. 
(5) Check that there is adequate tyre pressure to reduce gas use.
Michelin Safety Campaign: Michelin Safe on the Road: 1992 A.D.
The Michelin tyre drive-safe project in 1992 consisted of training for automobile driver safety and practical training for motorcyclists in Thailand.
In addition, public and private service stations were set up to check tyres, such as for the Royal Thai Highway Police, the Department of Land Transport, the Bank of Thailand and the Siam Cement Group.    
Later, in 2006, Michelin started the Michelin Safe on the Road project to reduce traffic accidents and to promote safety and alleviate public hazards. The Don't Drive Drunk Foundation and PTT Public Company Limited were also established to promote safe driving behaviour.
The aforementioned projects were divided into two sections.
1. The Michelin team provides knowledge to protect oneself and for a reduction in traffic accidents, for tyre care, and to have correct and appropriate tyre pressure.
2. Tyre pressure service checks with the Michelin Safe on the Road units at associated gas stations and Michelin proxy shops and TYREPLUS service centres.
In January 2021, MICHELIN announced the release of MICHELIN e-primacy, the latest new tyre for passenger cars with internal combustion engines used in hybrids or electric cars in the EU market.
It is a tyre that is an important innovation for the tyre industry that emphasises the long-standing will of the Michelin group toward traveling.
Scott Clark, Managing Director of Motorcycle Sports Tyre Production who specialises in North America and acts on behalf of the. Executive director of the Michelin Group, said:
"We have mobilised our energy to create a tyre design that reduces fossil fuel use and CO2 emissions by 2030. Michelin tyres will reduce emissions by 20% more than 2010. In addition, we have produced a tyre design with high erosion resistance (Wear Indicator) so that tyres will not have to be changed constantly, another positive effect for both customers and the environment."
MICHELIN e-primacy tyres are the first CO2 Neutral tyres, which were also rated as champion tyres by customers for their excellent gas performance.
 - For drivers of internal combustion engine vehicles, this new tyre helps with the rate of fuel waste and CO2 emissions; it is the lowest in the tyre industry for substitute premium grades (2), (3) with a reduction worth 80 Euro (around 2,900 baht) or compared to a lifetime release of 174 kilograms in CO2 emissions (4), (5).
 - For electric car drivers, this tyre helps extend the battery life by around 7%.
You can be confident in its excellent ability every time you drive (3) in the high safety level from the first to the last kilometre. It has passed 30,000 km driving efficiency tests such as European R117(6), (7), (9).
 - The work life is longer than the technology used for MaxTouch tyres (8).
MICHELIN e-primacy tyres will be made at MICHELIN factories in Germany, Spain and Italy and distributed throughout Europe from March 2021. 
This tyre which is set for use in electric vehicles will be distributed in China from May 2021.
Employees can click here beforehand to view the above clip before this live release of MICHELIN e-primacy tyres on 5 November.