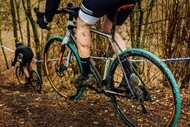 Can I Use Gravel or Cyclocross Tyres on a Road Bike?
In some cases, it is possible to fit gravel tyres on a road bike. Nevertheless, there are limitations. In this article, we will explain what is possible so that you can enjoy your rides without risk.
Can you put gravel tyres on a road bike?
Can you use cyclocross tyres on road bikes?
As for gravel tyres it depends mainly on the bike and whether the rim of the rear wheel is close to the frame or not.
Cyclocross tyres might not be as good on the road as proper road bike tyres, but they are a good choice as all-rounders when a road bike is used in many different settings.
Even better, they work well in both wet and dry conditions. The only thing you should bear in mind is that, just like gravel tyres, cyclocross tyres are a bit heavier than typical road bike tyres and tend to wear out faster if you only ride on the road.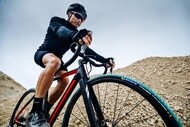 Cyclocross tyres are more resistant to punctures
If you use your road bike to commute to work in city traffic, you can sometimes encounter obstacles that lead to punctures. With other road users around, it can be difficult to spot broken glass, sharp twigs and even potholes on the road ahead. Another advantage of fitting cyclocross tyres on a road bike is that they are more resistant to punctures than conventional tyres. This can be useful on the road as well as on tracks and pathways.
Is having a second set of wheels a better idea?
The downside of fitting cyclocross or gravel tyres to a road bike is that it takes time and effort. For example, you may need gravel tyres fitted to your road bicycle only a few times each year. So, in order to save time and effort, you might prefer a better alternative. Instead of swapping tyres, you could consider getting a second set of wheels.
The reason for this is that it is both quicker and much easier to swap one set of wheels over for another than to use the same wheels with different tyres. Modern bicycles of all kinds have quick-release mechanisms. Investing in another set of wheels with a rim size suited to modern cyclocross or gravel tyre sizes is therefore an easier option.